The Bramfield Village Tapestry
Click on the image below to zoom in for a closer view.
Click here for a close up slideshow from top left to bottom right in 64 views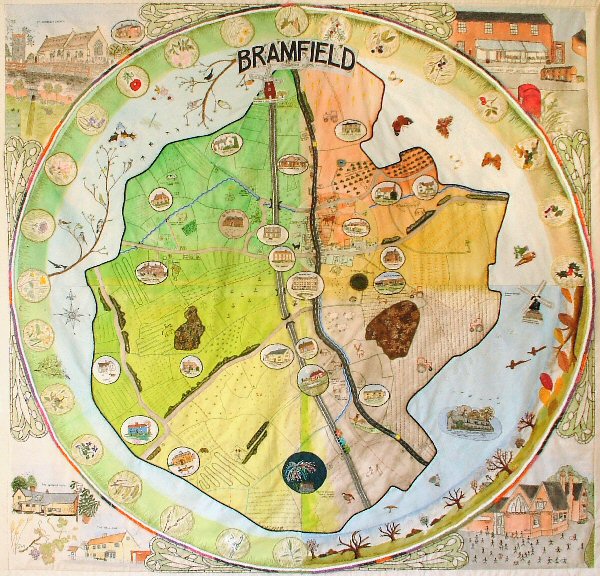 The Story of the Bramfield Map
In 1996 a charity called Common Ground was encouraging local people to take more notice of their surroundings and to record what they saw in any way they chose with a view to cherishing it and perhaps protecting it if it came under threat. Many maps were made, using a wide variety of techniques such as photography, drawing, embroidery etc. We chose needlework and, unwisely, 2000 as the target!
During 1998 a group of ladies were meeting in the Village Hall for a cup of tea and to do their own knitting or sewing and that seemed a good start with the proviso that only the simplest of stitches would be called for. We were lucky to have John Troughton, a professional artist/draughtsman on the Parish Council who designed the map, one feature of which was a border of wild flowers on which the above group started. Various other talented people were found who started work on the four corners depicting the shop, school, church and two pubs. These were drawn and fabric painted first.
The whole project was designed so that all the pieces could be worked separately to be assembled as appliqué on the map. As far as possible someone in the family worked the larger properties and twisting a friend's arm to do your bit was just as valuable! More than sixty people have taken part in some way or another and EVERY house is depicted (I hope!). Ideas grew as we went along. For example the notion of the seasons evolved and I'm sure that even more could be added and that is a challenge for the future.
While something was always going on 2000 came and went but no map materialised and the project lost momentum. Participators left the village, lost good use of their fingers or eyes or even sadly, died. We foundered for about four years. In spite of constant enquiries I couldn't find anyone to join me in getting the map underway again until Jane Gamble arrived on the scene. Together we picked up the pieces and bravely set a target date of July 2006. Now the map is almost an historical document of the past 8 years. The map contains the skills of draughtsmanship, photography, computer design, fabric painting, screen printing, knitting and the work of many, many hands putting in a single stitch or hundreds of stitches.
So many thanks to all the willing and interested people of Bramfield who put up with my badgering, to Mary Walker of Bungay with her invaluable stitching advice, to the Parish Council for £75 towards expenses, to those who stuck with me to the end and last but by no means least to Mark Trussler (Bramfield born and bred) who made the display stand for us.
The map will not have one permanent place of display and is designed to move about but will be in St Andrew's Church Bramfield Suffolk for the summer months of 2006.
June Brereton. July 2006